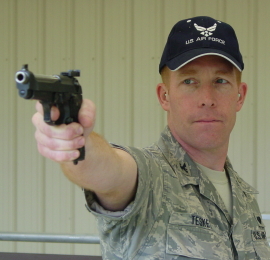 Col Mark S. Teskey
Staff Judge Advocate
Air Force Office of Special Investigations
Andrews AFB, MD
Hometown: Charlotte, NC
email
Primary team member
Team member since 2006
Classification: Expert
Distinguished Pistol Shot (USAF Badge# 397)
Personal best scores:
.22 (900) - 867-18x, Fairfax, VA, 27 Sep 08
CF (900) - 849-19x, New Castle, DE, 23 Aug 08
.45 (900) - 845-24x, Fairfax, VA, 27 Sep 08
AGG (2700) - 2556-70x, New Castle, DE, 23 Aug 08
How I got started shooting
I started shooting .22 target rifles with the Boy Scouts. At a later assignment in Tennessee, I was involved with 1000 yard rifle competition. During my year in the Desert, I was introduced to air pistol shooting by Art Rozier and became hooked on the mental challenge offered by the bullseye pistol discipline. Art convinced me to invest in the proper equipment and Col Joe Chang (ret) coached and gave me opportunities over the last year. Now, I'm working toward making the best contributions I can to the Air Force National Pistol Team.
Current training locations