The US Air Force Distinguished Rifleman Program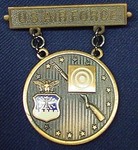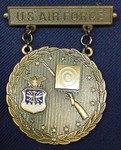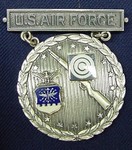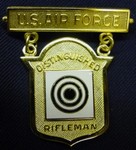 For a closer look and more information on an individual badge, choose it from the pictures above,
or you may go to the USAF Excellence In Competition Rifleman Badges page.
Special Note: In December of 2007 CMP issued a request that all USAF Distinguished shooters review their information at the CMP for accuracy. Please see the letter from Gary Anderson on the news page.
Administration of the Program
The Air Force administers the program in a similar way to the rest of the community with the exception of an elementary level badge.

The Elementary Badge is characterized by its lack of a surrounding wreath.

Only an individual who has never acquired points in competition is eligible for the Elementary badge.

Once they receive any points, they are no longer eligible to compete at the Elementary level.

The Elementary badge, and four points toward Distinguished, are awarded to the top ten percent of the competitors in an Elementary Excellence In Competition match.

After receipt of further points through CMP matches, the Bronze, Silver and eventually Distinguished Badges are awarded for reaching 10, 20 and 30 points, respectively.

For those individuals who first gain points through the CMP instead of via the Elementary match, the Bronze Badge is awarded for receipt of any points, instead of waiting for the accumulation of ten.

Just as there is a limit for civilians to fire in no more than four matches within a calendar year, the Air Force also limits its members.

For the team members two of those four are required to be the Interservice Match (limited to service competitors) and the National Trophy Individual (NTI) Match (conducted by CMP at the end of the NRA matches at the Nationals).

Additionally, points awarded to airmen for the NTI Match are limited to the type of award.

Unlike the civilians who gain ten points for any award in the NTI, Airmen gain points based on the level of award.

Gold brings ten, Silver, eight and Bronze, six points.
List of Air Force Distinguished Rifleman Recipients
This list represents the total badges issued to all Air Force members.

This includes Active, Reserve and Guard components.

Several "seeming" discrepancies can be seen, such as duplications of badge numbers and partial names.

A special thanks to Hap Rocketto (CMP Distinguished History author) for his help in confirming and adding to some of the below information.

If any members have conflicting or additional information, or can fill in the names for the three vacant numbers (072, 177 & 314) in this list, please send an email with details to Edwin Hall (USAF Ret).


001 - MORTON MUMMA
002 - EDWARD APO
003 - DONALD LOCKSTROM
004 - KENNETH PALMER
005 - WILLARD JENSEN
006 - JOHN JUDSON
007 - DON ADAMS (Double Distinguished - R/I)
008 - JOHN BERTVA (Double Distinguished - R/I)
009 - JAMES MONK
010 - GUY CARTER
011 - ROBERT DICKENS (Double Distinguished - R/I)
012 - FINTON STEWART
013 - LELAND TAYLOR (Double Distinguished - R/P)
014 - HORACE GEORGE
015 - WILLIAM MAXWELL
016 - PAUL STAPPER
017 - BRUCE JOHNSON
018 - CARL STOUT
019 - GAROLD FULLER
020 - WILLIAM MELLON (Triple Distinguished)
021 - JAMES CONWAY
022 - CHARLES HATHAWAY
023 - JOHN DAVIS
024 - EDWARD O'HARA
025 - RICHARD BROWN (Double Distinguished - R/I)
026 - MIDDLETON TOMPKINS (1960)
027 - FRANKLIN TOSSAS (Double Distinguished - R/I)
028 - KEITH LOEDING (Double Distinguished - R/P)
029 - LLOYD ROBINSON
030 - DAVID DYCK (Double Distinguished - R/P)
031 - CHESTER MC CARTY
032 - JAMES BUNDY
033 - PATRICK BOYLE
034 - FURMAN BLUME
035 - PHILLIP WALLS
036 - STANLEY SCHAFFER
037 - PATRICK O'DEA
038 - RUSSELL KROBOTH (Double Distinguished - R/P)
039 - FREDERICK DEAN (Triple Distinguished)
040 - RICHARD GOREY
041 - RANDALL FARRIS
042 - ELMER BALLANCE
043 - WILLIAM EVANS
044 - ELMER WORTH (Double Distinguished - R/P)
045 - GORDON ROGERS
046 - OLIVER COLE
047 - CHARLES WISEMAN
048 - CHARLES MADDEN
049 - WILSON HUNTER
050 - LEROY JOHNSON (Double Distinguished - R/P)
051 - RAYMOND LEWIS
052 - ROBERT BARNARD
053 - GILBERT KEMM
054 - CHARLES DAVIS
055 - DAVID THOMPSON
056 - EUGEN REINARTZ
057 - CHRISTAIN BREUER
058 - NORMAN BAHR
059 - ROBERT PISTONE
060 - ERNEST POORBOY
061 - THOMAS DILLON
062 - JACK GLOVER
063 - ROBERT ROBERTSON
064 - RUPERT SPORTS
065 - EARLE HANCOCK
066 - ALLEN HARRY
067 - ROBERT HATCH
068 - ROBERT PENN
069 - RAYMOND GALLANT
070 - KENNETH HORST
071 - MICHAEL D. WHITE
072 - ????
073 - CHRISTOPHER GILLENWATER
074 - ALDO FRASCOIA
075 - EDWARD KUTAS
076 - STANLEY BRAMAN
077 - DELMER CALLAHAN
078 - DENNIS BEHRENS
079 - BOBBY SMITH
080 - GORDON LITALIEN
081 - ROBERT HAYS (Double Distinguished - R/P)
082 - EMMITT ADKINS
083 - ROBERT WARD
084 - HENRY EVANS
085 - RALPH SCOFIELD
086 - LEON LINSCOTT
087 - VERNON RAY
088 - RICHARD GIBSON
089 - RAY BOHLANDER
090 - ARLIE JONES (Double Distinguished - R/I)
091 - WILLIS TILLOTSON
092 - KURT DEGERLUND
093 - JAMES WINTERS
094 - FREDERICK GERHART
095 - RICHARD CORBETT
096 - HUGO SIEBENEICHEN
097 - JAMES OWEN
098 - ARLIE JONES
099 - EDMOND ROBERTS
100 - WILLIAM GERLACH
101 - HENRY YOOS
102 - DAVIS PHELPS
103 - DENTON BRASEL
104 - GORDON HILDERBRANT
105 - JAMES CARTER (Double Distinguished - R/P)
106 - WALTER MOODY
107 - ROGER EDWARDS
108 - ROLF SMITH
109 - RONALD BACHMAN
110 - LYONEL BUNDY
111 - MERVIN LEPPO (Double Distinguished - R/P)
112 - SAMMY RHODES
113 - EDWARD JONES
114 - WILLIAM MEDLIN
115 - FRANKLIN PETERS
116 - DONALD MOODY
117 - DWIGHT INGRAHAM
118 - ROBERT WITMER
119 - FREDERICK KENT
120 - ELMER GOLDPENNY
121 - TURMAN BOLES
122 - JOHN MEIERS
123 - JOSEPH DECKER
124 - ROBERT STUDLEY
125 - WILLIAM EASON
126 - JOHN SIZEMORE
127 - JAMES VESTAL
128 - JAMES MAY
129 - JAMES MC INTOSH
130 - RONALD WRIGHT
131 - CHARLES WIGGINS
132 - JAMES BRUNS
133 - LINCOLN DAVIS
134 - MAURICE BERGEVIN
135 - MC ALLISTER RHODES
136 - HAROLD THOMPSON
137 - LOUIS WILLING (Double Distinguished - R/P)
138 - EDWARD VASQUEZ
139 - JOSEPH WILSON
140 - RHODY NORNBERG (Double Distinguished - R/I)
141 - EDMUND JENSEN
142 - MICHAEL HAAS
143 - ARNOLD VITARBO (Triple Distinguished)
144 - NORMAN NEUBERT
145 - JOHN NIDIFFER
146 - THOMAS BRYANT
147 - GRANTLAND GRUVER
148 - VINCENTE FLORES
149 - JOHN ANDRES
150 - JOHN OGDEN
151 - GLEN BAKER
152 - KENNETH BALOG
153 - PETER KIPPIE
154 - JERRY PATTON
155 - RODNEY SMITH
156 - WILLIAM DENKE
157 - TERRY MARTINO
158 - JAMES BREEDLOVE
159 - DORLAND SHELTON
160 - RICHARD GARRISON
161 - TERRY SNOW
162 - DONALD DURBIN (Double Distinguished - R/I)
162 - JOHN WITTWER (both Durbin and Wittwer appear to have been issued the same number)
163 - PAUL PITTMAN (both Pittman and Williams appear to have been issued the same number)
163 - AUDIE WILLIAMS
164 - JIMMIE FOILES
165 - CLAYTON BRENNAN
166 - JERROLD NYE
167 - MARVIN MC CASH
168 - WILLIAM BRADBURN
169 - WILLIAM FININIS
170 - RICHARD SERENO
171 - CHARLES WILHELM
172 - EARL HINES (1980)
173 - EUGENE GLESSING
174 - ROBERT CLAXTON
175 - LLOYD NELSON
176 - JOHN MILLIGAN
177 - ????
178 - JOE WYATT
179 - RICHARD CROWL
180 - ROSS DODD (ROY DODD in AF list)(Double Distinguished - R/P)
181 - DOUGLAS WAMACK
182 - KENNETH HENSLEE
183 - MICHAEL IRISH
184 - STEPHEN BLAIN
185 - ROBERT MC ELWAN
186 - DAVID SEELY
187 - ROBERT CLINTON
188 - JOHN BURRES
189 - THOMAS LOHMAN (Double Distinguished - R/P)
190 - NORMAN WEBER
191 - THOMAS SPENCER
192 - JAMES FISH
193 - ROGER YANEZ (Double Distinguished - R/P)
194 - ROBERT ZINN
195 - ARNOLD KRUSE
196 - ALTON MURRY
197 - GORDON BROWN
198 - PAUL LA FOREST
199 - EUGENE CONSIGLIO
200 - NEIL JENSEN (1985) (Due to a clerical error, he was also awarded badge #279 - see CMP story)
201 - JAMES CRIMMINS
202 - JAMES GILLILAND
203 - KENNETH KIRKMAN (Double Distinguished - R/P)
204 - ARTHUR ONSPAUGH
205 - JEFFREY JEZIERSKI
206 - ALBERT BRUNS
207 - JOHN DAVIS
208 - GORDON KORDOSKY
209 - DENNIS SCHMAUCH (Double Distinguished - R/P)
210 - RAYMOND YEAGER
211 - CHARLES DUNN
212 - WALT LANG
213 - ERNEST LIGHTSEY
214 - TED BROWN
215 - MARK FORD
216 - BARRY OLSON
217 - JAMES SAYRE
218 - JOHN MASON
219 - GENE BEDGOOD
220 - DANIEL WELLS
221 - DAVID HILL
222 - DENNIS MC DONALD
223 - DONALD LINK
224 - DAVID DRISCOLL
225 - ROGER WHITNEY (1987)
226 - FREDRICK PHILLIPS
227 - RICK SMART
228 - JUSTO GARCIA
229 - JEFFERY CLEGG
230 - PAUL WALICKE
231 - ALBERT JAMES
232 - JACK SHAW
233 - JOSEPH MC DEMUS
234 - DANIEL SPENCER
235 - STEVEN HOLLAND
236 - JOHN HOFFMAN (Double Distinguished - R/P)
237 - TERRY HARDY
238 - JACOB NIESEN
239 - ROY DRYDALE
240 - CLAUDE TRAHAN
241 - DECKER SANDERS
242 - GALEN YAMADA
243 - KENNETH STROHM
244 - RONALD RUBY
245 - DAVID SMITH (Double Distinguished - R/P)
246 - JAMES TAYLOR
247 - COURTNEY BOLING
248 - MARK COX
249 - JAMES DIXON
250 - WILLIAM WALTER
251 - RICHARD TORBERT
252 - ERIC BELLOWS
253 - RAY TAYLOR
254 - RONALD TATE
255 - GLENN BOWLES (Double Distinguished - R/P)
256 - MICHAEL SUWINSKI (Double Distinguished - R/P)
257 - GERALD KINDER
258 - KENNETH RAKER
259 - THOMAS KELLY
260 - JOEL KUNTZ
261 - JAMES CHEADLE
262 - GORDON CAMPBELL
263 - TIMOTHY BARLOW
264 - WILLIAM KISSENBERGER
265 - ROBERT SWISHER
266 - ERICK CAMBRELEN
267 - THOMAS SCARBORO
268 - DONALD VAN SLAMBROOK
269 - HAROLD MISTLER
270 - BRYAN QUICK
271 - GARY DIEFENDERFER
272 - RAYMOND BASSETTI (Double Distinguished - R/P)
273 - DANIEL NORWOOD (Double Distinguished - R/P)
274 - GEORGE WELLS
275 - KENNETH DECKER
276 - EARL HARP
277 - CHRISTOPHER DYER (Double Distinguished - R/P)
278 - STEVEN FILLION
279 - NEIL JENSEN (Due to a clerical error, this was a second issue to Neil Jensen, who holds #200 - see CMP story)
280 - HARLAND PEELLE
281 - DOUGLAS LIERZ
282 - ISAAC SMITH (Double Distinguished - R/P)
283 - MICHAEL OSHINSKY
284 - JAMES KOELZER
285 - TIMOTHY SARCHETT
286 - MICHAEL WARD (Double Distinguished - R/P)
287 - BRIAN MIYAMOTO
288 - WILLIAM ROBERTS
289 - HENRY BUNK
290 - JEFFREY KELLOW
291 - ANDREW KUHTIK
292 - JAMES DICKINSON
293 - PAUL MYERS
294 - GREGORY BLACKSTOCK (Double Distinguished - R/P)
295 - GARY J. RIHN
296 - BRIAN ROY (Double Distinguished - R/P)
297 - RUSTIN K. WONN (Double Distinguished - R/P)
298 - TERRY POTTER
299 - WILLIAM BEDNAROWSKI
300 - DARREN JONES
301 - KELLY TAYLOR (Double Distinguished - R/P)
302 - VICTOR MARCELLE (Double Distinguished - R/P)
303 - NATHAN WATTERS (Double Distinguished - R/P)
304 - JOHN HEINRICH
305 - CHRISTOPHER FUSCO (Double Distinguished - R/P)
306 - TIMOTHY TRAPP
307 - RICHARD LONGBERG (Double Distinguished - R/P)
308 - MITCHELL CLARK
309 - DANIEL A. RODRIGUEZ (2005)
310 - MICHAEL BAUERLEIN (2005)
311 - WARREN CHRISTMAN (2005) (Double Distinguished - R/P)
312 - DAVID A. JOHNSON (2006)
313 - JOHNNIE O. BAIR (2006)
314 - ???? (possibly MATT CLEMENT)
315 - RYAN A. CALHOON (2006)
316 - CHAD D. LEASURE (2006)
317 - JOSEPH H. BURKEL (2006)
318 - TROY L. PROCTOR (2006)
319 - ARTHUR ROZIER (2007) (Double Distinguished - R/P)
320 - EDWARD ALTMEYER, JR (2007) (Double Distinguished - R/P)
321 - CHRISTOPHER ASHLEY (2007) (Double Distinguished - R/P)
322 - BRUCE H. ROUNDS (2007) (Double Distinguished - R/P)
323 - BRUCE M. HALEY (2008)
324 - JESSE CURREN (2008) (Double Distinguished - R/P)
325 - JOHN SIEBERT (2009)
326 - ????
327 - ????
328 - JOSHUA HONICK (2009) (Double Distinguished - R/P)
329 - MATTHEW J. GRIFFIN (2010)
330 - MATTHEW C. LECHLITER (2010)
331 - MICHAEL J. WALKER (2010) (Double Distinguished - R/P)
333 - JOHN B. EDWARDS (2010)
334 - ????
335 - CHRISTIAN J. TARANTA (2011)
336 - SAMUEL H. ABBE (2011)
338 - EDWARD J. MAUSS
342 - DAVID A. HIGGINS, JR. (2013)
343 - RODGER SCRIVNER (2013) (Double Distinguished - R/P)