Team News
The Team has published newsletters from time to time. They may be seen here.
2015 - A Year of Highlights for the USAF National Pistol Team
The Team, with members from across several states, came together for three events this year. The first was a training camp held at Ft Benning, Georgia, led by the Team OIC, LtCol Greg Barnett, the NCOIC, SSgt Terrence Sears, the Training Officer, LtCol Hugh Ragland and the Coach, MSgt(ret) Edwin Hall. Other members that attended the camp included LtCol Scott Morrison, 2Lt Tucker Sears, SSgt Jeremiah Jackson, SSgt Roy Vreeland, SrA Eric Hart and SrA Ian Pitts. The Team trained and prepared for the upcoming matches. LtCol Ragland presented an in-work training DVD during the camp, to be used in preparation for the National Matches.
The second gathering of the Team came in the form of the 56th Annual InterService Pistol Championships, at which several members shone brightly. Leading the accomplishments was the win by SSgt Jackson of the .22 Individual Aggregate, a feat not seen since 1988, when another AF member won the Center Fire Aggregate. Coincidentally, the trophy for the .22 aggregate at the InterService Matches is named the Air Force Trophy. Perhaps SSgt Jackson believed it was time to bring it home. The USAF Blue Team (consisting of LtCol Barnett, SSgts Sears, Jackson, Vreeland and Richard Mallette) took Third Place in the Center Fire Team Match. In the Excellence In Competition Match, the Team locked in the 2nd through 4th places with SSgts Sears, Vreeland and Jackson respectively capturing points toward Distinguished.
Of special note, SSgt Jackson fired his first High Master score for a 2700 aggregate at this match, with a solid 2629-107x. His score placed him 5th overall for the 2700. Because of the manner of reporting, his HM score was diluted by the Service Pistol Aggregate, so NRA did not reclassify him. It is expected he will post the scores needed to move up later this year. Additionally, Col(s) Ragland put the finishing touches on his training DVD.
The third Team event for the year was the National Pistol Championships held at Camp Perry, Ohio. Eight firing members and the gunsmith made the trip: Col(s) Ragland, LtCol Barnett (OIC), Maj Fred Baldwin, 2Lt Sears, TSgt(s) Sears (NCOIC), SSgts Jackson, Mallette, Vreeland and TSgt Nathan Drumm (gunsmith). As in previous years, members of the Team provided personal instruction to students in the Small Arms Firing School (SAFS).
The first of many highlights was the fourth place finish of the non-Distinguished shooters by a newer member, 2Lt Sears, in the M9 (Elementary) Excellence in Competition Match, securing four points toward Distinguished. In the EIC Match, SSgts Jackson and Mallette received points for placing in the top ten percent.
In the NRA 2700, the USAF-Eagles Team (TSgt(s) Sears, SSgts Mallette, Jackson) took third place overall in the 3-person Preliminary Team event and SSgt Jackson won the General Twining Trophy for the second time. In the .22 Caliber Team Match, USAF Blue (LtCol Barnett, TSgt(s) Sears, SSgts Mallette, Jackson) took 2nd place in the Master class, while USAF Silver (Col(s) Ragland, Maj Baldwin, 2Lt Sears, SSgt Vreeland) took first in the Sharpshooter class. In the Center Fire Team Match, USAF Silver again took first in their class. In the .45 Caliber Team Match, USAF Blue took third in their class and USAF Silver again secured first place. For the Team Aggregate, USAF Blue captured third and USAF Silver took first in their respective classes.
In the National Trophy Matches, Col(s) Ragland, TSgt(s) Sears and SSgts Jackson and Vreeland made the President's Hundred, with SSgt Jackson placing 6th overall. In the National Trophy Individual Match, Col(s) Ragland and SSgts Jackson, Vreeland and Mallette received points toward Distinguished. The points gained by SSgts Jackson and Vreeland were enough to earn them the Distinguished Badge. TSgt(s) Sears, who earned his badge earlier in the year, and SSgts Jackson and Vreeland, who earned their badges based on points acquired at Camp Perry, were all honored by receiving the badges on stage from LtCol Barnett at the CMP Awards Ceremony. In addition to all the points and badges, TSgt(s) Sears won the General Curtis LeMay Trophy and SSgt Jackson won the General Carl Spaatz Trophy.
February 2013 - USAFNPT now has a Facebook page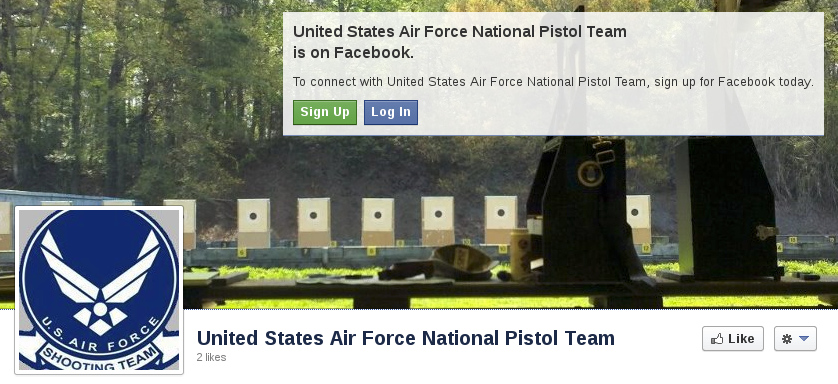 Follow the Team on its new Facebook page.
July 2012 - Col Thomas Reardon captures all three USAF trophies at the National Pistol Matches
The National Team, led by Col David McCormick and LtCol Greg Barnett showed up in force this year, bringing a total of nine members, several of them first-timers to Camp Perry. In contrast to bringing in new members, the Team will be losing several long-time members this year, but hopefully they will not be lost to the shooting community.
First timers included Maj Fred Baldwin, SSgt Terrence Sears, SrA Eric Fazzini and A1C Orion Darley. Col Mark Teskey, a member since 2006 and the current Team Captain, was not able to attend what would have been his last National Matches as part of the Team. He, Col McCormick and LtCol Thomas Reardon will all be retiring prior to next year's matches.
As a finale to his departure, LtCol Reardon won the General Twining Trophy, the General LeMay Trophy and the General Spaatz Trophy for high AF in the NRA match (2700), the National Trophy Individual and National Trophy Team matches, respectively. LtCol Reardon also won a Gold Custer award, with Col McCormick winning Silver and making the President's 100.
July 2011 - USAF National Pistol Team Captures Several Trophies at the NRA/CMP National Matches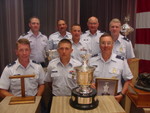 Col Mark Teskey, Team Captain/OIC, TSgt Brendan McGloin, Team NCOIC, and six other members attended the National Pistol Matches at Camp Perry, Ohio, this year. Among the other returning members were Col Mark Hays, Col David McCormick, LtCol Thomas Reardon, and MSgt Paul Noblit. First time members included LtCol(s) Greg Barnett, Team Training OIC and SrA Jeremiah Jackson.
Highlights: Col Hays won both the General LeMay and General Spaatz awards and a Gold Custer Medal in the National Trophy Individual (NTI) event. Col McCormick won the Twining Award, Made the President's 100 and won a Silver Custer Medal. LtCol Reardon made the President's 100 and MSgt Noblit won a Bronze Custer Medal for his efforts in the NTI. Of special note, SrA Jackson, a very new member of the Team and coached primarily by past member SMSgt(ret) Donald Rupp, set several new personal bests at the Nationals, posting more than one clean target.
June 2011 - USAF Pistol Team takes ten members and their Coach to the InterService Championships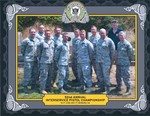 This year the Team consisted of ten members, ranging from those who have been with the Team for several years, to three relatively new members. The 'seasoned' members included Col Mark Teskey, Col Mark Hays, Col David McCormick, LtCol Thomas Reardon, MSgt Paul Noblit, MSgt(s) Kevin Payne and TSgt Brendan McGloin. Newer members, since last year, included LtCol(s) Greg Barnett, Maj Herman Baldwin and SrA Jeremiah Jackson.
When the gunsmoke settled, Col Hays came out on top of the Air Force crowd for a second time at the Championships. He was awarded a prize knife for High Air Force. Although not part of the Championships proper, several members were awarded Badges for their accomplishments toward the Distinguished Pistol achievement. To top the list, Col Teskey received his Distinguished badge (#397), which was engraved by Col McCormick. MSgt(s) Payne and SrA Jackson rounded out the awards with receipt of their Elementary Excellence-In-Competition Badges.
July 2009 - USAF National Pistol Team Members Secure Several Awards at the Nationals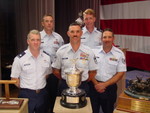 Col Mark Teskey, Team Captain/OIC, led a smaller than normal team to the National Matches this year due to mission requirements of those absent. Joining Col Teskey this year, were LtCol Thomas Reardon, SMSgt Daniel Bouchee, MSgt(s) Paul Noblit and TSgt Brendan McGloin.
Several individual accomplishments were enjoyed by team members. LtCol Reardon received the General Curtis LeMay Award, made the President's Hundred and received a Gold NTI Badge worth ten points toward his Distiguished goal. SMSgt Bouchee received the General Twining Award, made the President's Hundred and received a Silver NTI Badge.
Col Teskey was invited to present the Junior awards for the National Trophy Matches and handed out several, to include the Riding the High Places Trophy and Overall Junior Pistol Award.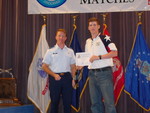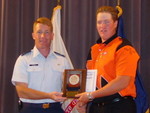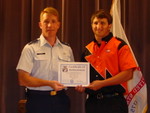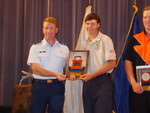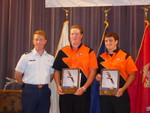 June 2009 - USAF International Pistol Team Member Brings Home Three Golds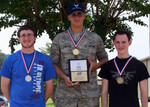 Amn Alexander Callage, a new member to both the Air Force and its International Pistol Team, represented that Team by himself for this year's USA Shooting National Championships. Amn Callage, who had already distinguished himself in International shooting as a Junior, prior to his enlistment, continued in his winning ways to secure Champion Junior in three events: Free Pistol, Men's Air Pistol (Hagstrom Trophy) and Standard Pistol. Not only did he do well at the Junior level, for which his eligibily ends this year, but he finished seventh overall for the Men's Air Pistol event. And, all this after not even seeing his guns for several months!
As noted, Amn Callage enlisted in the Air Force and has been studying and training hard to learn his Air Force specialty. This left no time for pistol training. He literally took receipt of his guns at the Championships and produced winning scores. Of even greater note, while winning Air and Free with his own guns is significant, his Standard Pistol win was with a borrowed gun, one which he had never before fired, and for a match he had never before entered.
The Tinker Take Off, the "Official Newspaper of Oklahoma City Air Logistics Center," printed an article about Amn Callage in their July 10-16 edition. That article can be found at Setting his sights: Tinker Airman aims at Olympic glory.
Complete results for the event can be found at 2009 USA Shooting National Championships (Rifle/Pistol) Final Results.
June 2009 - USAF National Pistol Team Fires in the Fiftieth Annual InterService Championship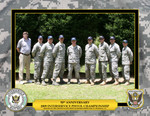 The annual trip to the InterService Matches included eight active Team members and their coach this year. Col Mark Teskey, Team Captain/OIC led three other Primary Team members and four Developmental members through the week long competition. The three other Primary Team members were: Col Mark Hays, SMSgt Daniel Bouchee and MSgt(s) Paul Noblit. The Developmental members were: LtCol Adam Nyenhuis, Capt William Hope, TSgt Brendan McGloin and SrA Logan VanHouten. Their Coach, MSgt(ret) Edwin Hall joined them for the trek.
The results of this year's InterService matches can be seen on the CMP site within the Competition Tracker pages. The link is Results for Interservice Pistol Championship Matches 2009.
The week culminated in an awards banquet on Friday evening. Col Teskey was honored by being asked to present the first set of trophies to the top competitors in the Championship.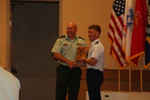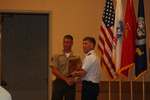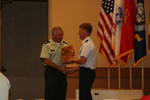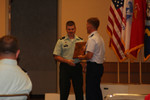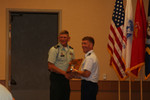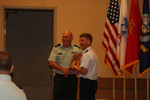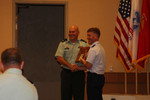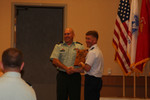 March 2009 - USAF National Pistol Team Invited to Training Camp at USAMU
A week-long Tryout and Training Camp, hosted by the Service Pistol section of the US Army Marksmanship Unit, was held in early March. Members attending were Col Mark Hays, Col Mark Teskey (OIC/Captain), LtCol Lester Ogawa, LtCol Thomas Reardon, LtCol Adam Nyenhuis, Capt William Hope, SMSgt Daniel Bouchee (NCOIC), TSgt Paul Noblit, SrA Logan VanHouten and MSgt(ret) Edwin Hall (Coach).
The training, led by USAMU Service Pistol Coach Richard Hawkins and several Team Members, consisted of small matches and drills with varous calibers, throughout the week. Coach Hawkins presented a 15 page listing of drills and has graciously allowed us to provide them to others via this site. Go to our Suggested Reading page for a link to this set of drills.
The week finished with a 2700 match on Saturday where the camp attendees had an opportunity to work with their newly honed skills. Although some changes were more difficult to incorporate immediately, several members posted new personal bests to include, most notably, a 2602 by SMSgt Dan Bouchee. A big thank you was felt by all the AF members for the great opportunity made possible by the USAMU. The Team is looking forward to possibly being able to make this a more common training event.
July 2008 - A Small Turnout for the Pistol Nationals and Some Leave Early
The USAF National Pistol Team only arrived with five members due to operational needs. Those present for the start of this year's event were Col Mark Hays, Col Mark Teskey, LtCol David McCormick, TSgt(s) Kallan Slater and TSgt(s) Sergey Aguryanov. But, three members had to leave early. Cols Hays and Teskey, and TSgt(s) Aguryanov were forced to leave prior to the National Trophy Matches fired on Sunday. Their absense forced the Team to withdraw from the Trophy Team Match.
Before his departure TSgt(s) Aguryanov successfully secured two trophies and a Gold Medallion in the NRA Championship. He won the General Twining Trophy for High Active AF competitor and the Harold R. Krelstein Trophy and Gold Medallion for High Collegiate competitor. TSgt Slater was able to stay for the Trophy Matches and won the General LeMay Trophy for High AF competitor, and Gold in the Individual competition.
June 2008 - Seven Members Make the Trek to Attend the 49th InterService Pistol Championships
Team OIC/Captain, Col Mark Teskey and Team Manager, LtCol David McCormick gathered three other veteran and two new members for this year's InterService Pistol Championships. The three established members were Col Mark Hays, Capt William Hope and SSgt Kallan Slater. New to the Team this year, were LtCol Lester Ogawa and TSgt Paul Noblit, who were brought onto the Team at the Spring Traning Camp/Tryouts in April.
The competition was intense, as it always is at InterService, but two of the Team fired new personal bests, always a great achievement at InterService. Col Hays was able to best his previous Center Fire Aggregate and SSgt Slater fired new top scores in Center Fire, .45 and the 2700 Aggregate. All the scores can be found at the CMP website under Results for Interservice Pistol Championship Matches 2008.
April 2008 - National Pistol Team Holds Training Camp in Maryland
Members of the USAF National Pistol Team met at the 12th Precinct Pistol Club in Harwood, Maryland for a week of competition and training. The camp was conducted by the Team Coach, MSgt(ret) Edwin Hall and attended by the Team OIC/Captain, Col Mark Teskey, Team Manager, LtCol David McCormick, returning members Capt William Hope and SSgt Sergey Aguryanov, and three potential members trying out for the team; LtCol Lester Ogawa, TSgt Brendan McGloin and TSgt Paul Noblit.
The camp consisted of exercises and lessons provided by Coach Hall and Col(ret) Joe Chang, covering a range of subjects from fundamentals through equipment needs, through match preparation and on. Team members were also afforded several opportunities to compete in formal events. The camp started off with a 2700 competition at the 12th Precinct Pistol Club on Sunday and concluded with another 2700 on the following Saturday, hosted by the Anne Arundel Fish & Game Club. Within the week two 1800s were fired in the form of leagues at the above clubs.
The new recruits were evaluated and accepted onto the team as developmental shooters. The team also realigned and finalized its goals for the 2008 season. The next scheduled team event is the Interservice Championship in early June. All members will be invited to attend this match and another evaluation will determine which members will be invited to the Nationals in July.
The team extends a special "Thank You" to the 12th Precinct Pistol Club for hosting its 2008 Team Camp.
December 2007 - USAF Distinguished Shooters Urged to Provide Data to the CMP
Ken Slade, CMSgt (ret) received the following request from the CMP regarding inclusion of our Distinguished recipients into the CMP database:
Dear Ken:
We appreciate all that you have been doing to keep communications going among the former members of the Air Force Shooting Teams, but that brings me to a special request. Would it be possible for you to put out a call through the USAF Shooting Teams newsletters that you produce asking Air Force Distinguished shooters to check and correct the records we have on their Distinguished Badges.
The CMP has been working to assemble a complete database of all Distinguished shooters, military and civilian from the first badges awarded in 1884 to the present day. This data is now posted on our CMP website and can be accessed through our Competitor Tracker web page at http://clubs.odcmp.com/cgi-bin/index.cgi. From that page select "Service Rifle" or "Service Pistol" and then click on "Distinguished Shooters."
For a long time we were having difficulties in obtaining data on Air Force Distinguished shooters, but last year someone gave us a complete list. This data had names and badge numbers, but did not give the year these shooters went Distinguished. As a result most Air Force Distinguished shooters are listed as having gone Distinguished in 2006 even though many of those badges were earned 30 or 40 years ago. The CMP is requesting that all Air Force Distinguished shooters check their records as well as the records of Air Force shooters whom they know/knew and to give us correct information if the record is not correct.
The CMP needs the following information:
1. Is the USAF Badge number correct?
2. What year did the shooter actually go Distinguished?
3. What was the shooter's rank when he/she went Distinguished?
4. What is the shooter's year of birth (not essential, but useful)?
To find a Distinguished record:
1. Open the CMP Competitor Tracker web page at: http://clubs.odcmp.com/cgi-bin/index.cgi
2. Select "Service Rifle" or "Service Pistol" and click on "Distinguished Shooters."
3. Type in the shooter's last name and the record will come up.
If the shooter's Distinguished record is incorrect, please send an email with the correct information to Christina Levek-Rogulski at crogulski@odcmp.com or call her at 419-635-2141, x1114.
We thank you and your colleagues in advance for any assistance you can give us in helping make our Distinguished shooter database as complete and accurate as possible.
Gary Anderson
Director of Civilian Marksmanship
dcm@odcmp.com
July 2007 - Team Members Bring Home Several Awards From the National Pistol Championships Held at Camp Perry, Ohio
Six members of the Air Force National Pistol Team gathered at Camp Perry this year. Four were returning members while two experienced their first National Championships. Leading the Team was Col Mark Hays who captured the NRA General Twining Trophy for his aggregate score in the individual NRA portion of the National Championships. Joining Col Hays this year were Col(s) Mark Teskey, LtCol Arthur Rozier, LtCol David McCormick, SSgt Sergey Aguryanov and SSgt Kallan Slater.
Competing in the Team events, the Air Force took first place in the Master/Service class/category in the .22, Center Fire and Overall Aggregate. Several members placed in their individual class/categories to include seven first place finishes and two second places by SSgt Slater, a first place finish by SSgt Aguryanov and second and third place finishes by Col Hays.
The CMP Ceremony was again highlighted by a Team Member, this time Col(s) Teskey, being invited to present awards, including the General Carl Spaatz trophy to LtCol Rozier. Other awards presented by Col(s) Teskey included the Military Police Corps Trophy to GySgt Brian Zins, the General Mellon Trophy to SSgt James Henderson and Elihu Root Gold Medals to the National Civilian Pistol Team members present: Steve Reiter Sr, Cecil Rhodes, Matthew Buckman, Kevin Kelly, Mario Stajner and William Weldon. See pictures of the ceremony (among other Camp Perry pics) in our Camp Perry Pistol 2007 album.
In addition to the awards given out by Col(s) Teskey, LtCol McCormick received the General Curtis LeMay Trophy and both Col(s) Teskey and SSgt Slater received points and medals toward their Distinguished Pistol goals. SSgt Slater received four points for his top ten percent finish in the Elementary EIC match and a Silver Medal (worth eight points) in the National Trophy Individual Match. Col(s) Teskey also finished in the top ten percent in the Elementary EIC Match (for four points) and attained a Bronze Medal (worth six points) in the National Trophy Individual Match. Both LtCols Rozier and McCormick finished the NTI with Gold Medals and made the Presidents 100.
June 2007 - Six Members and the Team Coach Attend the 48th InterService Pistol Championships
A variety of Team members and the coach gathered at Ft Benning for the event. Among the members were LtCols Arthur Rozier and David McCormick who have been with the Team for several years, Col(s) Mark Teskey and SSgt Kallan Slater who have been members since the last Interservice and Capt William Hope and TSgt Robert Bush who were attending their first match. Also along for the trip was MSgt(ret) Edwin Hall, Team coach. The match results can be found on the CMP web site at Results for Interservice Pistol Championship.
March 2007 - Top USAF Pistol Shooter and Team Captain Is Lost To Retirement
Col Joe Chang retired from the Air Force ranks on 31 March 2007 after distinguished careers in both his primary duties and Shooting Team accomplishments. Among his shooting accomplishments are such achievements as winning the Twining Trophy seven times (with five in consecutive years), joining the NRA 2650 club, making the President's 100 for the last ten consecutive years, receiving the General Spaatz Trophy twice and the General LeMay trophy. Other accomplishments can be seen in Col Chang's bio.
January 2007 - LtCol Arthur Rozier Becomes Double Distinguished
LtCol Rozier finished his quest for Rifle Distinguished by firing within the top ten percent in a match at Kuwait Naval Base, Kuwait. From among just under 100 Air Force competitors, LtCol Rozier emerged in First Place receiving his final ten points and became the newest Double Distinguished Air Force shooter.
November 2006 - USAF 586th Expeditionary Mission Support Group, Detachment One, Camp Patriot, Kuwait, Conducts EIC Match
The Detachment, commanded by LtCol Arthur Rozier, held the Excellence-In-Competition Match with contenders from across the services. Soldiers, sailors, airmen and guardsmen from over a dozen installations came together to compete for Gold, Silver and Bronze awards (as well as bragging rights). When all was finished, a soldier, SFC Donald Gimlen, held Top Honors with, S/Sgt Robert Baltimore and M/Sgt Dallas Mathis, both airmen, in second and third place, respectively. As for the prizes, two gold, three silver and five bronze EIC medals were awarded. For the complete story and list of medal winners, pleae visit Shooting Sports USA - Troops in Competition
October 2006 - Just Back from Overseas, LtCol McCormick is Already Adding More Awards to His Collection
Returning to the ConUS in August, LtCol David McCormick attended his first return competition in Syracuse, NY, that same month. This match was a portion of the larger New York State Outdoor Championship which is finalized in October each year after the results from all the affiliated venues are combined. In reward for his performance, LtCol McCormick has added the NY State Outdoor High Military/Police Award to his collection of trophies.
September 2006 - Sadly, Col Gail Liberty Passed Away on the Air Force's 59th Anniversary
Col Liberty, the only Air Force Double Distinguished Woman and one of only two women to hold the honor of USAF Distinguished Pistol, passed away on September 18th after a long battle with Multiple Sclerosis. Among her other shooting achievements are three-time National Woman Champion, a Silver World Championship, a silver and a bronze Pan American Championship and NRA National Records that still stand after forty years. To see some of her accomplishments please visit Gail N. Liberty on our Past Members page. Please also see the CMP Memoriam to Col Liberty.
July 2006 - Col Chang is Again Called On as a Presenter and Also Captures All Three Air Force Awards at the National Pistol Championships, Camp Perry, Ohio
As in 2005, Col Joe Chang was invited by the CMP to present awards, this time for the Juniors. He presented several Certificates and three trophy plaques to juniors from the Texas State Rifle Association. (Of note, the TSRA Juniors are coached by an active USAF Team Member and a retired USAF Team Member - TSgt Daniel Toole and SMSgt (ret) Donald Rupp.) Hold the mouse over the below images to see the awards that were presented and check out the Camp Perry 2006 Gallery for these and other pictures in full size. Col Chang and the Juniors (as well as all the awardees) can also be seen in the 2006 National Trophy Pistol Matches pictures page at the CMP site.






Col Chang made the most of his rare opportunity to both present and receive recognition at this year's Championship. In what may be his last year before retirement, Col Chang made a clean sweep of the three Air Force oriented Trophies - General Twining, General Spaatz and General LeMay. This year's win of the General Twining Award brings his total to seven with five consecutive; this is his second General Spaatz award. Along the way to the High Active Air Force score, he was First Place High Master - Police/Service in the Center Fire Timed Fire Match and Third Place High Master - Police/Service in the .45 Caliber National Match Course. Col Chang also received an award for placing in the top 100 in the Reeves Match.
This year's Team consisting of Col Chang, LtCol Mark Hays, MSgt Daniel Bouchee and SSgt Sergey Aguryanov finished in second place for the .22 Caliber Master Class Open Club/Service Category Team Match and was Fourth Military Team overall in the National Trophy Team Match. Col Chang, LtCol Hays and SSgt Aguyanov received awards for the National Trophy Individual Match, with Col Chang receiving Gold and LtCol Hays and SSgt Aguyanov both receiving Bronze. Col Chang also shot his way to his tenth (all consecutive) receipt of the President's 100 Award.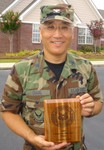 June 2006 - Col Joe Chang Highlights the InterService Matches with a Win for the Air Force
Col Chang carried home some top honors from the Forty-Seventh Annual InterService Matches held at Ft Benning, GA. His performance in the Center Fire Slow Fire Match netted him a First Place finish in a tight race for the top three positions. The win was determined by X's with his 194-8x besting two others' 194-7x scores. Congratulations to Col Chang for his accomplishment!
Col Chang was joined this year by five established Members and two new recruits to round out an eight-member Team showing at the Matches. Returning to the fold, after missing last season due to an overseas tour in a desert region, was LtCol Arthur Rozier. Other Members included LtCol Mark Hays, MSgt Daniel Bouchee, Capt Michael McGivern and SSgt Sergey Aguryanov. The two new Developmental Members were LtCol Mark Teskey and SSgt Kallan Slater.
See the 47th InterService Match Results Bulletin (.pdf) for more information.
June 2006 - Col Joe Chang selected as CISM "Chief of Mission"
Col Chang has been selected Chief of Mission for Team USA for the 41st Conseil International du Sport Militaire (CISM) in Rena, Norway from June 21 through 28. The Team will include several shooters from the Army, Navy and Reserves. For more information see US Shooting Team to vie for CISM medals at TargetTalk and SportsLink - CISM Competition Kicks Off in Norway. Congratulations to Col Chang for his selection!
October 2005 - Retired Team Member Sets National Record
On August 27, retired MSgt and long-time team member Ed Hall set a new national civilian record for outdoor timed fire at 25 yards. Ed fired a 200-20X + 3X, adding 3 Xs to the mark set by Darius "Doc" Young in 2002. Congratulations, Ed!
July 2005 - Col Chang Makes History Twice and the Team Captures Additional Awards
This year's Competition brought two new and exiciting events to the Air Force Shooting Team's recorded history. The first event of note was that of Col Joe Chang, the Team's Officer-In-Charge, being requested by the CMP to present the four awards under the heading of NTI-NTT Individual Aggregate at their National Trophy Matches Ceremony. Col Chang presented the Anheuser-Busch Trophy to Steve Reiter, the Fleet Admiral Nimitz Trophy to CDR Gino Celio, USNR, the US Army Forces Command Trophy to SGT Robert Park, II, USA and the McMillan Trophy to GySgt Richard Gray, USMC.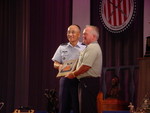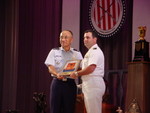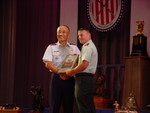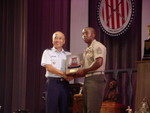 Clicking on an image above will take you to a larger image in the growing AF Team's Gallery Pages.
The second event of high notice, which actually occurred prior to the CMP presentations, was that of Col Chang adding a sixth award of the General Twining Trophy to his collection. This is the greatest number of times any Air Force individual has won this award and the fourth consecutive receipt for Col Chang. The Macon, GA Telegraph, a local paper to Col Chang's former assignment at Robins AFB, ran a feature on the accomplishment: Former Robins airman named 2005 Air Force pistol champion by NRA.
Col Chang also won awards in the recently added Harry Reeves Revolver Match and the National Trophy Individual (NTI) Match. Joining Col Chang in NTI awards, LtCol Mark Hays finished high enough to earn the needed points to complete his quest for Distinguished Pistol status. LtCol Arthur Rozier joined Col Chang and LtCol Hays in receipt of an award in the NTI and made the President's Hundred for his fifth time. In addition to the above members' accomplishments, MSgt Daniel Bouchee received an award for his finish in the Center Fire Timed Fire Match.
In Team awards, under the leadership of Capt Michael McGivern, the Air Force took Second Place in the Master-Service category with their Center Fire guns. The firing members were Col Chang, LtCol Rozier, MSgt Bouchee and SSgt Sergey Aguryanov.
March 2005 - The New Season is Kicked Off with a Training Camp in Richmond, Virginia
The 2005 Training Camp was a great success starting with a 2700 in Fairfax, Virginia. Six Members took the line with Col Joe Chang winning top honors. A warm-up Service Pistol match was fired at the end of the 2700, in which Col Chang again bested the group with a very respectable 287-12x.
From Fairfax, the Team migrated south to hold the bulk of the week long training at the Richmond Police Training Academy Range, a beautiful indoor facility with a 25 yard state-of-the-art turning system and adjacent classroom. Lectures and range drills highlighted the Camp, during which several current members welcomed three new shooters to the ranks of the developmental side. Returning members included Col Chang, LtCol Mark Hays, LtCol David McCormick, MSgt Daniel Bouchee and SSgt Sergey Aguryanov. The three new Members were Capt Michael McGivern, MSgt(s) Anthony Aparicio and SSgt Ryan Goulding. The Camp was coached by MSgt (ret) Ed Hall.
Mid-week allowed for an intermediate evaluation by members attending the Twefth Precinct Pistol Club's weekly league, in which two separate 900's are held. Many Team Members posted new high scores and several were heard comparing large X counts.
The Camp came to a close with Members descending on the Sir Walter Gun Club in Raleigh, North Carolina for the club's first match of the season. The range had already been close to capacity and special thanks are to be extended to two local shooters who gave up their spots to let some "out-of-towners" compete. The 2700, expertly run by Cecil Rhodes, gave the Members a chance to see how their Training carried over into match competition and several came away pleased. Highlights included MSgt Bouchee firing his way to second place in the Master class, SSgt Aguryanov winning the Expert class and Capt McGivern grabbing top honors in the Sharpshooter class.
September 2004 - Col Joe Chang Wins the New Jersey State Outdoor Championship and MSgt Dan Bouchee Makes NJ Top Ten
Col Chang led members of the AF Team into battle at the NJ State Championship. When all firing subsided Col Chang had won the overall Championship and a Gold Medal for the Excellence-In-Competition (leg) Match. Along the way to the final score Col Chang won Open Center Fire and .45 sub-aggregates, and placed First-In-Class for the .22 portion. MSgt Dan Bouchee locked in a spot as one of the Top Ten New Jersey Resident shooters. More information can be seen at New Jersey 2004 Outdoor Championship.
July 2004 - Team Members Soar to Several Awards at Camp Perry
Col Joe Chang led The Air Force Team to several highlights at the National Matches of 2004. The USAF National Pistol Team (firing members: Col Chang, LtCol Dave McCormick, MSgt Alex Barin, SrA Sergey Aguryanov) won the Master-Service Class .45 Caliber Team Match and Col Chang personally secured the General Twining Trophy to become the only Member in history to receive this award five times. Additionally, Col Chang made the President's Hundred for his eighth consecutive year, placed Second overall in the NRA .45 Caliber Slow Fire Match and Third overall in the .45 Caliber Championship.
Lt Col McCormick joined Col Chang in receipt of the President's Hundred (his seventh consecutive year) and shot his way to a third award of the General Carl Spaatz Trophy for his Service Pistol efforts in the Team Matches. MSgt Dan Bouchee met a personal goal of making the President's Hundred to join the Cols in this prestigious award and Captained the above named Team to its victory. First year Team Member SrA Aguryanov, in addition to his Team achievement, received the 3rd Place Pewter Award in the NRA Preliminary Match.
The National Trophy Individual Match again found TSgt Dan Toole above the preliminary cut for award points along with LtCol McCormick. The preliminary cut will be finalized to a slightly lower point when all the Distinguished shooters are verified. Col Chang and MSgt Bouchee will likely join LtCol McCormick and TSgt Toole above that final cut.
June/July 2004 - Members Shine at Interservice and Elsewhere
Interservice saw the greatest number of Air Force Team members this year with nine attending. When the scores were tallied LtCol McCormick had fired his way to Third overall in the Center Fire Rapid Fire Match. Col Joe Chang fired his way to being declared the Georgia State Champion for 2004. The All States National Pistol Championship was attended by four members of the National Team and highlights include MSgt Dan Bouchee receiving the Trophy Plaque for High Airman, SrA Sergey Aguryanov (first year shooter) receiving the High Service Expert Award and TSgt Dan Toole achieving second place of the non-Distinguished competitors in the Service Pistol Match which should finish his quest for Distinguished Pistol status.
March 2004 - Team Holds Training Camp and Brings New Shooters Aboard
The National Team started its Spring Training Camp by attending the Virginia State Indoor Championships in Richmond. Highlights included Col Chang winning Second Overall and SrA Sergey Aguryanov as High Expert shooter. The Team held the bulk of its training at the Twelfth Precinct Pistol and Archery Club for a second time in recent years. The support of the club was again superb and liaison through Mr. George Petricko and Mr. Garrison Johns provided for an excellent Training Session for the Team. The Camp, led by MSgt Edwin Hall (ret), combined several areas of shooting and included drills and several forms of competition. Two new shooters, TSgt(s) Donnie Bobo and SrA Aguryanov, were evaluated and welcomed onto the Team based on their capabilities and potential.
August 2003 - LtCol Swartz Still on Track for Olympic Bid
LtCol Stephen Swartz, Ph.D., is still zeroing in on his goal of making the 2004 Olympic Team. LtCol Swartz, who is currently Captaining the USAF International Team, competed in the Fall 2003 Selection Match with good results. His scores in the Spring 2004 Selection Match will be combined with the Fall Match to determine if he is selected. You can read more about LtCol Swartz at AFIT professor shoots for Olympics and AFIT supports Air Force shooter.
July 2003 - Two USAF National Pistol Team members carry home Trophy Plaques awarded by NRA and CMP
Col Joe Chang secured another receipt of the General Twining Trophy tying Capt Franklin Green's top claim of four years. This is a second consecutive award of the high active Air Force Trophy in the National Matches for Col Chang. LtCol Arthur Rozier received his first General Carl Spaatz award for high Air Force member individual score in the National Trophy Team Matches. In addition to the above awards, LtCol David McCormick joined LtCol Rozier and Col Chang within the ranks of the President's Hundred recipients for the current year. This is the seventh consecutive President's Hundred award for Col Chang and the sixth consecutive for LtCol McCormick.
March 2003 - A combined Training Camp was held for the National and International Teams
Eight members were able to start the combined camp at Lackland AFB. Due to war efforts, this number decreased as the week progressed, but the camp was still a success. The week started off with an Air Force EIC match with nearly seventy competitors in which three of the team members were able to acquire points toward Distinguished. Capt Dave Taylor completed his quest, while LtCol John Wigle and 2Lt Wayne Stiles came in with six points each. The top competitor for the match was (already Distinguished) LtCol Dave McCormick who fired 280-6x. Fresh from the EIC match, members entered a local competition in Austin where Col Chang won with 2624-94x.

The week was designed to bring focus on lectures and drills each day to prepare for a 2700 competition at the end of the week, but world events canceled that match. However, several lectures focusing on dry firing techniques and use of sighting systems were combined with dry and live fire into some very effective drills for the team members.
July 2002 - LtCol David McCormick successfully defends Curtis Trophy and Col Chang regains Twining
In a year that was quite taxing to shooters (third place in the NRA aggregate was less than 2600), LtCol McCormick was again called to the stage to receive the Gen Carl Spaatz Trophy Plaque for the high Air Force individual score fired in the National Trophy Pistol Team Match. This is the second consecutive win of this award by LtCol McCormick. In the NRA portion of the matches, Col Joe Chang came from behind on the last day of competition to secure his third award of the Gen Twining Trophy. In addition to the above, Col Chang and LtCol McCormick were joined by LtCol Arthur Rozier in receipt of the President's Hundred Award.
June 2002 - Air Force Team takes Service Pistol Bronze at Interservice Matches
For the first time since the '60s the Air Force National Pistol Team captured a medal in the Service Pistol Team Match of the Interservice Pistol Championships. Held each year, the Interservice Pistol Championships bring competitors from all the services together at one match. The 2002 Championships were hosted by the US Army Marksmanship Unit at Ft Benning. Teams for the Service Pistol Match included Air Force, Army, Army Reserve, Navy, Guard and Marine teams. Some branches (Guard, Marines and Army) fielded multiple teams. The Air Force team consisting of Col Joe Chang, LtCol Art Rozier, LtCol Steve Swartz and Capt Adam Curtis brought the team to the third place finish above all but the top Army and Reserve teams.
October 2001 - Maj David McCormick wins Martinez Award in NY State Championship
The trophy was first presented in 1997 in honor of LtCol Peter Martinez. It is awarded for the highest Excellence In Competition (service pistol) score during the New York State Outdoor Championship. LtCol Martinez was in the American Division stationed in the South Pacific during World War II and received many awards to include a Combat Infantry Badge, a Spearhead, two Battle Stars, a Bronze Star and a Purple Heart. After the war, he changed from Infantry to Ordnance, and in 1957 he made the II Corps Pistol Team, for which he shot until 1969. This year Maj McCormick bested all the competitors from four locations across the state of New York to secure this award.
September 2001 - Maj Stephen Swartz competes for spot on Olympic Team
Maj Swartz has recently been selected to the Air Force International Pistol Team. This is a step toward possible selection to the US Olympic Team. To read the full Air Force story go to Air Force marksman eyes Olympic berth.
July 2001 - Team members capture three trophies at National Matches
The twelve members of the Air Force National Pistol Team landed at the National Matches ready to compete. When the smoke cleared from the air, several carried home special reminders of their achievements. Many class awards were acquired, but the most notable was Capt Adam Curtis who literally stormed through the competition. Capt Curtis won first in class for the preliminary match, eight of 12 individual and all three sub-aggregates, plus the grand aggregate. Stage appearances were made by SSgt O'Connor to receive the General Twining Trophy, Maj Rozier to receive the General LeMay Trophy and Maj McCormick to receive the General Spaatz Trophy.
May 2001 - Team has training camp - members go on to win all respective classes, plus open, in local match
The Air Force National Pistol Team held a training camp at Marine Corps Base (MCB) Quantico in May. Team members joined the camp from as far away as California. Eleven current members and a new potential member met for the camp. After three days of training, some with the USMC team, the USAF members concluded the camp by competing in a 2700 match at Montpelier, VA.

Of the 95 individual awards given for this match, 70 of them went to USAF team members. Included in this were the overall win by Col(s) Chang and first place class awards won by SSgt O'Connor, 1Lt Taylor and Capt(s) Curtis. TSgt Barin was awarded second (behind 1Lt Taylor) in his class. SSgt O'Connor broke the 2600 barrier and edged out a former team member (now retired) by 10 X's for his class win.
2001 - Lt Col Mark Hays and Msgt Ricky Hamada win their Service classes in the NRA National Indoor Conventional Championship
The NRA Open Conventional Pistol Indoor National Championship is held each year by the NRA through the efforts of affiliated clubs. It is a compilation of several 90-shot, fifty foot indoor matches held in various locations throughout the country. Each of these individual matches is referred to as a "Sectional." A competitor can compete in only one Sectional per year. The 2001 championship was fired by 1230 shooters with skills encompassing virtually the entire classification and category structure of the Bullseye shooting discipline. The results of this championship, as well as others held by the NRA can be found at NRA Championship Results.
July 2000 - Maj Dave McCormick wins General Twining Trophy at Perry
The General Twining Trophy is presented each year to the High Regular Air Force competitor in the National Matches. However, this was not continuously the case. Although the original intent was to award the high Air Force competitor, the trophy was altered to include other branches for a time. In the '90s, efforts by the Air Force were successful in returning the trophy to its original status and now Lt Col(s) McCormick has joined the ranks of those former team members who have been presented this award.
July 1999 - New members shine at Perry, newsletter published
Read the first issue of the Pistol Team newsletter. Requires the Adobe Acrobat reader.
July 1998 - Team makes history at Perry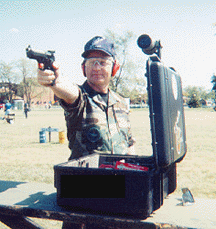 20 July, 1998: For the first time since the award's inception in 1981, an Air Force shooter has won the President's Pistol Trophy. SMSgt Jim-Bob McCarty, team member since 1983, bested more than 500 other military and civilian competitors in the 40-shot service pistol match with a score of 380-5X. SMSgt McCarty also took home the General Twining Trophy, awarded to the Air Force member with the highest score in the 2700 match at the National Championships. <!Read the A HREF="http://www.af.mil/news/Aug1998/n19980806_981160.html"Air Force News Story

SMSgt McCarty wasn't the Air Force's only success story at this year's national championships. MSgt Ed Hall won the General LeMay Trophy by shooting a 272-6X in the National Trophy Individual match, and team members Lt Col Joe Chang and Maj Dave McCormick qualified for the President's 100 award. The Air Force Silver team consisting of Lt Col Jim Gazur, Maj Dave McCormick, Maj Art Rozier, and SSgt Jeff O'Connor won the Expert-Service Team category.
March 1998 - Blue Team wins, Pollert goes distinguished
15 March, 1998: Today, the Air Force team scored its first victory of the 1998 season at the Dixie Matches in Jacksonville, Florida. The Air Force Blue Team bested 14 other military and civilian teams in the .45 caliber team match. In addition to winning the .45 caliber match, Blue Team members Lt Col Joe Chang, SMSgt Jim Bob McCarty, MSgt Ed Hall and SSgt John Pollert placed third in the centerfire team match and third in the aggregate team match. The Silver team also notched a win, topping the Master class in the .22 team match.

Several team members posted outstanding individual performances at the Dixie Matches. MSgt Hall turned in a stellar 200-14X to win the .22 caliber rapid fire match. Maj Art Rozier of Langley AFB won the Expert Service grand aggregate match with a score of 2540-75X. SSgt John Pollert of Altus AFB won the Service Master class with a score of 2583-96X and also placed fourth in the Service Pistol match with a 274-4X. With this performance, SSgt Pollert earned the final 10 points required for his Distinguished Pistol Shot badge. SSgt O'Connor also placed well in the Service Pistol match, scoring 267-6X and earning 6 EIC points.