The US Air Force Distinguished Pistol Shot Program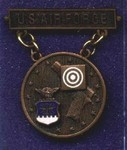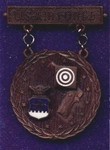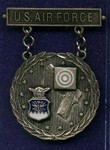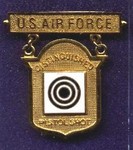 For a closer look and more information on an individual badge, choose it from the pictures above,
or you may go to the USAF Excellence In Competition Pistol Shot Badges page.
Also see Talking Paper on AF "Excellence-In-Competition" Program.
Special Note: In December of 2007 CMP issued a request that all USAF Distinguished shooters review their information at the CMP for accuracy. Please see the letter from Gary Anderson on the news page.
Administration of the Program
The Air Force administers the program in a similar way to the rest of the community with the exception of an elementary level badge.

Due to its differing mission, up until the acceptance of the M9, the Air Force has used handguns such as the Model 15 for its primary sidearm.

An elementary level competition was developed which used the then current Air Force handgun to allow airmen an opportunity to start on the road to Distinguished.

This provided for proficiency training with the weapon of the service, and allowed for crediting airmen four points toward Distinguished.

The Elementary Badge is characterized by its lack of a surrounding wreath.

Only an individual who has never acquired points in competition is eligible for the Elementary badge.

Once they receive any points, they are no longer eligible to compete at the Elementary level.

The Elementary badge, and four points toward distinguished, are awarded to the top ten percent of the competitors in an Elementary Excellence In Competition match.

After receipt of further points through CMP matches, the Bronze, Silver and eventually Distinguished Badges are awarded for reaching 10, 20 and 30 points, respectively.

For those individuals who first gain points through the CMP instead of via the Elementary match, the Bronze Badge is awarded for receipt of any points, instead of waiting for the accumulation of ten.

Just as there is a limit for civilians to fire in no more than four matches within a calendar year, the Air Force also limits its members.

For the team members two of those four are required to be the Interservice Match (limited to service competitors) and the National Trophy Individual (NTI) Match (conducted by CMP at the end of the NRA matches at the Nationals).

Additionally, points awarded to airmen for the NTI Match are limited to the type of award.

Unlike the civilians who gain ten points for any award in the NTI, Airmen gain points based on the level of award.

Gold brings ten, Silver, eight and Bronze, six points.
List of Air Force Distinguished Pistol Recipients
This list represents the total badges issued to all Air Force members.

This includes Active, Reserve and Guard components.

The master lists in Word format are maintained by Hq AF Services Agency (AFSVA) and can be found at USAF Shooting Program.



Note that many Distinguished Pistol Badge recipients also were distinguished in Rifle and/or International (and other lists) at CMP.


001 - THOMAS KELLY
002 - JOHN FUGEDY
003 - JOHN CROSBY
004 - ELMER WORTH (Double Distinguished - P/R)
005 - ARTHUR MANGHAM
006 - GORDON MACK
007 - JOHN KEYSER
008 - FRED McFARLAND
009 - WILLIAM MELLON (Triple Distinguished)
010 - STEPHEN HEU
011 - THOMAS McNEAL
012 - CHARLES DENSFORD (1955)
013 - LELAND TAYLOR (Double Distinguished P/R)
014 - WILLIS MEAD
015 - PATRICK AKI
016 - JOHN BEAUMONT
017 - WILLIAM BYERS
018 - NEAL DOANE
019 - BERNARD STOLTMAN
020 - SWEDE CARTER
021 - J. HARPER
022 - TOMMY KRCMAR
023 - KEITH LOEDING (Double Distinguished - P/R)
024 - HERMAN MASHBURN
025 - DAVID MILLER
026 - ROLAND SCHUTH
027 - LOUIS WILLING (Double Distinguished - P/R)
028 - FRANKLIN GREEN (Double Distinguished - P/I)
029 - ROBERT SCHNATTERLY
030 - ROBERT GORDER
031 - EDWIN TEAGUE (Double Distinguished - P/I)
032 - EARL KEITH
033 - THOMAS HARDGRAVE
034 - ROBERT DAY
035 - JAMES THORN
036 - KERMIT DYKE
037 - ROBERT PARKER
038 - OLBERT HIETT
039 - KENNETH OLSON
040 - JACK SEIDER
041 - ALVIN MERX (Double Distinguished - P/I)
042 - HILTON HAYES
043 - JAY COPELAND
044 - RAYMOND B. BEAL (The AF list shows Deal as last name)
045 - WALTER DAVIS
046 - REX DOUGLASS
047 - JACKIE MORRIS
048 - DAVID DYCK (Double Distinguished - P/R)
049 - ROBERT PRATER
050 - FRED RAKOW
051 - LEROY JOHNSON (Double Distinguished - P/R)
052 - THOMAS SMITH (Double Distinguished - P/I)
053 - DAVID THWAITES
054 - JAMES CARTER (Double Distinguished P/R)
055 - DARRELL BULIS
056 - CHARLES DROWNE
057 - WILLIAM ROWE
058 - ROBERT BLAIR
059 - WILBERT SNODGRASS
060 - RICHARD JOHNSON
061 - CORNELIUS MECKLER
062 - HERBERT JOLE
063 - GORDON LINKS
064 - ERNEST MORENO
065 - JACK TAYLOR
066 - BILLY HOWARD
067 - JOHNNY MAHAN
068 - DONALD SNAPP
069 - RALPH RIDGEWAY
070 - MERVIN LEPPO (Double Distinguished - P/R)
071 - FRANK KWAS
072 - WILLIAM HART
073 - DONALD MULVEY
074 - DOUGLAS GARCIA
075 - FRED BROWN
076 - EUGENE WALLIG
077 - ARBELL NIKEL
078 - FREDERICK KLINE
079 - HAROLD JOHNSON
080 - SCOTT WROTEN
081 - ALBERT CAMPBELL
082 - BILLY FINKBINDER
083 - DELMAR BASTIAN
084 - CHARLES REED
085 - JOHN PELL
086 - FREDERICK DEAN (Triple Distinguished)
087 - WILLIAM KINCANNON
088 - ROBERT PFLGL
089 - EUGENE GRAF
090 - HERMAN CRUMP
091 - VERNON RAUCH
092 - ROBERT DUEITT
093 - THOMAS McLENNAN
094 - JAMES TABOR (1961)
095 - WILLIAM WARREN
096 - WILTON LANEY
097 - JOHNNY HOLT
098 - ROBERT MEAGHER (Double Distinguished - P/I)
099 - JACOB DIXON
100 - MILBOURNE WALKER
101 - JAMES WAYCHOFF
102 - GEORGE MOORE
103 - WILLIAM ANDERSON
104 - DEMITRI STILU
105 - WALTER GRIFFIN
106 - JOSEPH LEFFMAN
107 - HOWARD CARTER
108 - HUBERT LEGG (Double Distinguished - P/I)
109 - EMERY BERRY
110 - ROBERT WOOLRIDGE
111 - ROBERT BAXTER
112 - ARNOLD VITARBO (Triple Distinguished)
113 - GEORGE VAN DEUSEN
114 - JOHN HARRISON
115 - LOVELL HALLMARK
116 - WADE HOUSER
117 - JEMES McNABB
118 - BOBBY TINER (Double Distinguished - P/I)
119 - JOHN BELVEAL
120 - HAL GLAZE
121 - DWIGHT THYARKS
122 - LESLIE FOSTER
123 - JAMES LONGENECKER
124 - JOHN FUCHS
125 - ROBERT HAYS (Double Distinguished - P/R)
126 - GUNTER OTT
127 - ROBERT YEAGER (Double Distinguished - P/I)
128 - RUSSELL KROBOTH (Double Distinguished - P/R)
129 - RAYMOND JUDY
130 - JOHN BESTLAND
131 - MILTON ROWCROFT
132 - GAIL LIBERTY (Double Distinguished - P/I)
133 - MAX SCHNEIDER
134 - ALFRED RICHARDS
135 - GEORGE HAMMER
136 - LARRY SWAFFORD
137 - KENNETH BAILEY
138 - DONALD RUPP
139 - DON ROBB
140 - CALVIN McCLOUD
141 - KARL MAAS
142 - WILLIS McCLAMMY
143 - J0HN DITMORE (Double Distinguished - P/I)
144 - ARTHUR SCHMITT
145 - ROBERT REIS
146 - DAVID NEWTON
147 - LESLIE DENNIS
148 - HARRY RICE
149 - WILLIAM DANIELS
150 - HILLIARD JONES
151 - HARLEY SMITH
152 - RAYMOND SCHWAHN
153 - LONZIE STRINGFELLOW
154 - ROY MEYERS
155 - DONALD FERRIS
156 - RICHARD JONES
157 - KENNETH GILLISPIE
158 - EDWARD JOHNSON
159 - JOSEPH KIRK
160 - ROGER MANEMANN
161 - DOUGLAS McLEAN
162 - GUSTAVE BANKS
163 - D. MOYER
164 - REX SMITH
165 - LARRY HADLEY (Double Distinguished - P/I)
166 - JOHN WALLS
167 - DAVE PINEDA
168 - THOMAS MOYERS
169 - ROBERT WYATT
170 - CLAUDE BAKER
171 - RUSSELL DOYLE
172 - HAROLD GLICK (1968)
173 - ROBERT RADDATZ
174 - WILLIAM SCHWEINLE (1968)
175 - WILLIAM ST CLAIR
176 - DAVID RAW
177 - CLARENCE JOHNSON
178 - JERRY WRIGHT
179 - JAMES CAVINESS
180 - BOYCE OAKES
181 - LEO LUJAN (1970)
182 - JOHN COLLIER
183 - WILLIAM BUMPUS (See July 2011 CMP article!)
184 - WALTER COOPER
185 - ALBERT CUMMINGS (1968)
186 - EDWIN SANDFORD
187 - DANIEL HOLLIDAY
188 - FREDERICK HUTCHINSON (1971)
189 - FRANK COFFEY
190 - EDWARD HALL
191 - STACEY YOUNG
192 - JOHN BUDDI
193 - WILBUR JEFFREY
194 - WILLIAM ALLARD
196 - THEODORE FICKEN
197 - JOHN CUSICK
198 - CHARLES COLEMAN
199 - LESTER BAER
200 - CLINTON PENCE
201 - JAMES GLENN
202 - JAMES RIVET
203 - STANLEY FERRIERA
204 - JOSEPH SCHLUE
205 - JAY MILLER
206 - ROBERT PACE
207 - RICHARD CRAWFORD (Double Distinguished - P/I)
208 - CLEMENT SHEFFERT
209 - LOUIS OLIVAS
210 - RICHARD CHASE
211 - LARRY MILLER
212 - WILLIAM MILLER
213 - ROGER YANEZ (Double Distinguished - P/R)
214 - ROLAND LARSON
215 - THOMAS HEATH
216 - GREG RYAN
217 - DARRELL BROOKS
218 - DENNIS BRIDGE
219 - KENNETH GILLENWATER
220 - EUGENE MARTENS
221 - WILLIAM BEIGHTEL
222 - JON PATTON
223 - GEORGE JATRAS
224 - JIMMY McCARTY
225 - KENNETH KIRKMAN (Double Distinguished - P/R)
226 - DANIEL DE CRANE
227 - JOHN HOFFMAN (Double Distinguished - P/R)
228 - ROBERT CASH
229 - GARY GOORIGIAN
230 - JAMES KONDELIS
231 - STANLEY GEORGE
232 - ROBERT LOPEZ
233 - JOHN SANDERSON
234 - WILLIAM BAIRD
235 - GEORGE PATNODE
236 - BRENT McNEE
237 - RICHARD FARRINGER
238 - JAMES MURDOCK
239 - THOMAS BURLACE
240 - FRANK BAKER
241 - RONALD TOURIGNY
242 - THOMAS LOHMAN (Double Distinguished - P/R)
243 - DUANE IHLI
244 - LELAND COOLEY
245 - LOREN HOWE
246 - THOMAS DUGAS
247 - KENNETH OSBORN
248 - DONALD HAMILTON
249 - JAMES FLEMING
250 - MARION LEE
251 - WILLIAM ALLEN
252 - MICHAEL KORMAS
253 - EDWARD BATEY
254 - DENNIS SCHMAUCH (Double Distinguished - P/R)
255 - KENNETH HUTCHINSON
256 - JOHN WATKINS (Double Distinguished - P/I)
257 - DARRELL BROOKS
258 - JOHN RYCZKOWSKI (1986)
259 - RAYMOND BASSETTI (Double Distinguished - P/R)
260 - RODNEY TOPPEL
261 - ROBERT McHUGH
262 - JACK OAK
263 - JOSEPH URISH
264 - NORMAN MOORE
265 - WALTER ARTHUR
266 - ARMANDO SANTIAGO
267 - KRAGSTEVENS CASH
268 - DAVID SMITH (Double Distinguished - P/R)
269 - WAYNE EYRE
270 - ISAAC SMITH (Double Distinguished - P/R)
271 - RONALD SIMMONS
272 - DANIEL IRVING
273 - BRUCE BEAUREGARD
274 - RAYMOND HEDGES
275 - DONALD MAROHN
276 - TERRY BRONSON
277 - WILLIAM SNEARLY
278 - ROBERT ENGELMEIER
279 - STEVEN ARNOLD
280 - THAD JANUSZ
281 - MICHAEL SUWINSKI (Double Distinguished - P/R)
282 - ROBERT ROSKUSKI
283 - STEVEN SCOFFIELD
284 - EDWARD JORDAN
285 - ALEJANDRO BARIN
286 - JAMES COLOTTA
287 - VINCENT INTELLISANO
288 - ROSS DODD (ROY DODD in AF list)(Double Distinguished - P/R)
289 - CULLEN DAVIDSON
290 - EDGAR SMITH
291 - ROBERT SCHWARZLER
292 - MERLE CARSGUARD
293 - GARY STORMES
294 - JOE CHANG
295 - STUART SMITH
296 - CHARLES TETLOW
297 - HARVEY ENDZELIS
298 - STEPHEN NUNBERG
299 - L. ZETTWOCH
300 - GARY FOSTER
301 - CHRISTOPHER DYER (Double Distinguished - P/R)
302 - DONALD WHARTON
303 - MICHAEL WARD (Double Distinguished - P/R)
304 - JAMES BROADHEAD
305 - SCOTT WILLOCKS
306 - LEONARD DEBAUFRE
307 - EDWIN C. HALL (1994)
308 - DONALD SHEA
309 - CHARLES ROSE
310 - STEPHEN GUSTKEY
311 - RICHARD ADLER
312 - PHILIP THOMAS
313 - GEORGE EDWARDS
314 - ROGER BUECHLER
315 - WILLIAM MAULDIN
316 - DANIEL NORWOOD (Double Distinguished - P/R)
317 - KEVIN JOHNSON
318 - DAVID JENNESS
319 - ROBERT BOUTHILLER
320 - BARBARA SHEA
321 - WARREN WRIGHT
322 - MARK GUERREO
323 - GLENN BOWLES (1998) (Double Distinguished - P/R)
324 - ARTHUR ROZIER (1998) (Double Distinguished - P/R)
325 - DAVID McCORMICK (1998)
326 - GARY TAYLOR
327 - JOHN POLLERT (1998)
328 - JOHN BERHEIM (1997)
329 - MICHAEL RUTHERFORD (1997)
330 - TIMOTHY MORTON (1998)
331 - ROBERT JAEGER (1997)
332 - ERIC BREYER (1998)
333 - LARRY SCHMID (1998)
334 - KARL YOERNS (1998)
335 - JACK SNYDER (1998)
336 - LOUIS NASSER (1998)
337 - RICHARD LONGBERG (1999) (Double Distinguished - P/R)
338 - MICHAEL CLITES (1997)
339 - DANIEL BOUCHEE (1999)
340 - ROBERT KOTULA (1995)
341 - JOHN GEE (2000)
342 - STEPHEN SWARTZ (2000)
343 - JAVIER MARTINEZ (1999)
344 - JOHN MARTIN (1999)
345 - WARREN CHRISTMAN (2000) (Double Distinguished - P/R)
346 - KELLY TAYLOR (Double Distinguished - P/R)
347 - MARK OAK
348 - DANIEL LYNDERS
349 - MARK VOLCHKO
350 - DARRYL LOAFMAN (2000)
351 - GREGORY BLACKSTOCK (2000) (Double Distinguished - P/R)
352 - MICHAEL MAGGIACOMA (2001)
353 - STACEY EUBANKS
354 - BRIAN ROY (2000) (Double Distinguished - P/R)
355 - MICHAEL SUTTLE (2002)
356 - ERIC SCHAFFER (2003)
357 - EMIL J. YERHART
358 - STANLEY OSSERMAN
359 - GREGORY SIMS
360 - TIMOTHY ARRINGTON
361 - DAVID MILLER
362 - VICTOR MARCELLE (Double Distinguished - P/R)
363 - NATHAN WATTERS (Double Distinguished - P/R)
364 - VICTOR McENTIRE
365 - JESSE CURREN (Double Distinguished - P/R)
366 - LARRY ENDECOTT
367 - CHARLES CROSS
368 - DANIEL TOOLE
369 - STEVEN LaBARRE
370 - ????
371 - ARCHIE DARR
372 - RUSTIN K. WONN (Double Distinguished - P/R)
373 - MICHAEL WITTE
374 - ????
375 - MARK HAYS (2005)
376 - SERGEY AGURYANOV (2006)
377 - CHRISTOPHER FUSCO (2006) (Double Distinguished - P/R)
378 - BRIAN HOFFMAN (2006)
379 - JOSEPH OLSZEWSKI (2006)
380 - PETER M. SHEPHERD (2007)
381 - CHRISTOPHER ASHLEY (2007) (Double Distinguished - P/R)
382 - ORIN HUMPHRIES (2007)
383 - WILLIAM BEDNAROWSKI (2008)
384 - SCOTT FULLER (2008)
385 - STUART LEONG (2008)
386 - BRUCE H. ROUNDS (2008) (Double Distinguished - P/R)
387 - MICHAEL J. WALKER (2008) (Double Distinguished - P/R)
388 - BARRY BRANNAN (2009)
389 - DEAN GRANT (2009)
390 - THOMAS REARDON (2010)
391 - EDWARD ALTMEYER, JR (2009) (Double Distinguished - P/R)
392 - BRADY P. WESTLING (2010)
393 - BRYANT BUTTARS (2010)
394 - ALLEN R. LYLES (2010)
395 - DUANE MANVILLE (2010)
396 - TROY M. CHADDON (2009)
397 - MARK S. TESKEY (2011)
398 - STACEY SHADE (2008)
399 - JAMES HODSON (2011)
400 - DAVID TAYLOR (2003) (Due to an accidental duplicate issue of badge #356 by USAF Services, David Taylor was officially reissued his badge in 2011 as #400, retroactive to the original date.)
401 - CHRISTOPHER CEKOVSKY (2011)
402 - BENJAMIN L. ISRAEL (2012)
403 - CLIFFORD RAMSON (2012)
404 - JOSHUA HONICK (2012) (Double Distinguished - P/R)
405 - JEFFREY L. JONES (2012)
406 - JEFFREY R. BROOKS (2012)
407 - MICHAEL P. GRADY (2012)
408 - RODGER SCRIVNER (2013) (Double Distinguished - P/R)
409 - MARK McDANIEL (2013)
410 - EVAN B. JONES(2013)
411 - MATTHEW T. WAECHTER (2013)
412 - GREGORY D. BARNETT (2014)