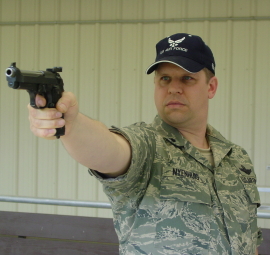 LtCol(ret) Adam Nyenhuis
Military Faculty
Joint Forces Staff College
Norfolk, VA

Hometown: Minneapolis, MN
Team member 2009-2010
Classification: Sharpshooter
Bronze Excellence-In-Competition Pistol Shot Badge
Personal best scores:
.22 (900) - 834-15x, 14 Mar 09, Ft Benning, GA
CF (900) - 808-19x, 14 Mar 09, Ft Benning, GA
.45 (900) - 817-20x, 6 Dec 08, New Castle, DE
AGG (2700) - 2441-47x, 14 Mar 09, Ft Benning, GA
How I got started shooting
I started shooting with my father when I was about 10, shot mostly revolver then. In college I got exposed to bullseye shooting through the USAFA pistol class, got a chance to shoot S&W Model 41 and 52 as well as 1911 .45s and I was hooked. Bought a HB gun in '92 to work toward a distinguished badge but was deployed too much to compete. Shot casually with friends from work, bowling pins and clay pigeons at 50 yds while stationed at Altus and then got out of shooting for about 5 yrs after 9/11. Didn't really get re-interested until one of the USAF pistol team members (Lester) came through the course I teach. Have had the bug bad since then . . .
Current training locations