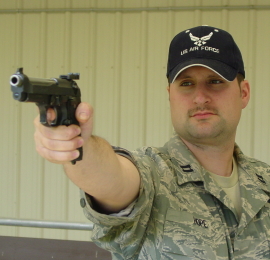 Capt William Hope
Flight Test Engineer
53d Weapons Evaluation Group
Tyndall AFB, FL
Hometown: Steilacoom, WA
Team member 2007-2009
Classification: Sharpshooter
Personal best scores:
.22 (900) - 837, Annapolis, MD
.45 (900) - 801, Ft Benning, GA
How I got started shooting
I shot 3-position smallbore rifle in high school, and was team captain my senior year. While deployed, I decided it was time to get back into the shooting sports, and promised myself if I made it back in one piece, I would take up Bullseye Shooting. I contacted LTC Rozier while over in Iraq and learned the specifics on training, match details, and equipment that would be required. Within a couple months of returning, I had a Masaki custom 1911 waiting. I headed up to Vandenberg a couple of times for some training sessions with LTC Rozier; I was soon hooked and have been competing and attempting to attain respectable scores ever since.
Current training locations