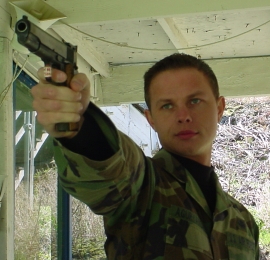 TSgt(s) Sergey Aguryanov
Client Support Administrator
306 Flying Training Group
USAF Academy, CO
Hometown: Krasnodar, Russia
Primary team member
Team member since 2004
Classification: Master
Distinguished Pistol Shot (USAF Badge# 376)
Personal best scores:
.22 (900) - 878-38x, Byers, CO, 2007
CF (900) - 869-23x, Raleigh, NC, 2006
.45 (900) - 867-29x, Raleigh, NC, 2005
AGG (1800) - 1729-60x, Richmond, VA, 2006
AGG (2700) - 2586-100x, Interservice, 2006
Other Accomplishments
Harold R. Krelstein Trophy, Camp Perry, 2008
General Twining Trophy, Camp Perry, 2008
1st Master, New Mexico State Outdoor Pistol Championships, 2007
Second Place Open Winner, VA State Indoor Pistol Championship, 2006
1st Expert, Virginia State Indoor Championship, 2004, 2006
Gold Medal, State Games of North Carolina, 2005
1st Expert-Service, All States National Pistol Championship, 2004
1st Sharpshooter, NRA Regional Championship, 2004
How I got started shooting
I got started shooting .22 gun in 1991 back in Russia in Middle School and shot only for 2 years. In 2002, volunteered help to set up for rifle match in Camp Lajeune conducted by LtCol Rozier. Learned from LtCol Rozier about AF Shooting Team and started training with him.
Current training locations
U.S. Olympic Training Center, Colorado Springs, CO